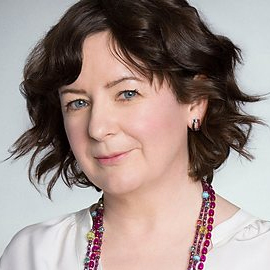 I was born in Liverpool in 1964. Early ambition was to be a bus conductress, but then I discovered radio. My inspirations were Janice Long on Radio Merseyside's youth show Street Life, and Ray Moore on Radio 2.
I went to Birmingham University, did an English degree, and confidently expected the BBC to get in touch. When they proved reluctant to take on a rather nerdy scouser with no obvious talent or experience, I went into advertising, after some illuminating experience as a medical records clerk at the Royal Liverpool Hospital, where my mum was a receptionist.
The advertising agency sacked me on February 6 1987 at 11.45 am. I returned home to Liverpool and decided to pursue my DJ ambitions.
By now even I had realised no one was going to come looking for me. Radio Wyvern in Worcester took me on after I wrote to them frankly begging for work experience.
Later I joined BBC Hereford and Worcester, where I presented the Breakfast Show, and then radio Five Live when it started in 1994. At Five Live I presented Breakfast and later Drive with the legendary Peter Allen, who taught me a lot about broadcasting, and even more about confectionery. I'm now sharing Woman's Hour presenting duties with Jenni Murray.
I've got two young daughters, aged nine and six. I love reading, baths, football, talking and learning to cook. My ambition is to live in a lavish yet minimalist home but I recognise that won't ever happen.